The provision of referral pathways for appropriate treatment for patients with mental disorders and MBS Items for psychological treatments provided by clinical psychologists and appropriately trained psychologists, social workers and occupational therapists has improved access to mental health treatment.

Improved access to focussed psychological services provided by allied health providers was a consistent theme across all of the stakeholder consultations. This is also reflected in the reported number of services provided (see Figure 1), with growth most marked in the number of services provided by psychologists.

Most AHPs interviewed (predominately psychologists), when commenting on the high rate of growth in services thought that the level of growth was unsurprising and that it would continue as a result of high levels of unmet demand in the community and as GP awareness of AHP services and referral networks continued to develop. Unlike Access to Allied Psychological Services (ATAPS), the budget for the Better Access initiative is not capped. The only constraint to the number of individuals receiving services is the level of approved demand (via the GP Assessment and Treatment Planning process) and the supply of AHPs. Within this context, a cycle of increasing demand and supply was identified as progressing through the following stages:
A high level of unmet demand in the community, with up to one in five adults having experienced a mental disorder in the preceding 12 months16 and less than half receiving treatment17. This demand was not being met by public mental health services, and most individuals receiving services through the Better Access initiative would have otherwise remained untreated.


The Better Access initiative increases the affordability of services in the private sector and more people can access services.


Concurrent with the increase in affordability of AHP services, strategies to encourage GPs to participate in early intervention, assessment and management of patients with mental disorders and to streamline access to appropriate psychological care further drives referrals to AHPs.


The availability of the MBS rebate and subsequent increased demand for services has increased the viability of private practice, leading to an increase in the number of approved providers.


The increased availability of providers (number of providers and locations serviced) makes services easier to access, leading to more referrals.


As awareness and availability of the Better Access initiative has increased, GPs are making more referrals as an adjunct or alternative to pharmacological interventions and/or in response to referral requests from clients. The issue of psychological strategies as an adjunct or alternative to pharmacological interventions is discussed further in section 4.8.4.
Through consecutive consultations the review explored with AHPs the factors contributing to increased service utilisation to develop the conceptual framework identified in
Figure 2
below.
Top of page
Although poorer access to AHPs by disadvantaged groups in the community was reported by GPs, public mental health service providers, NGO and consumer and carer representatives
18
, it was not generally noted by the AHPs interviewed.
One teleconference with AHPs discussed poorer access by disadvantaged groups and noted that this was a result of GPs failing to refer these client groups. This issue was also reported in two of the small area consultations. In one consultation a bilingual AHP already engaged in working with the local refugee community though their experience working in the public mental health system complained that they were not receiving referrals through local GPs though demand was known to be high. In another consultation a psychologist experienced in working with the local community of Aboriginal and Torres Strait Islander people reported that they received very few referrals from local GPs.
Most AHPs reported that the Medicare rebate was too low and that it failed to reimburse for reports and consultation with other service providers (particularly an issue for clients with more complex needs). AHPs identified the gap payment required to meet the cost of service provision as a difficulty and barrier in access for some individuals. General psychologists and social workers were particularly concerned about the higher rebate paid for services provided by clinical psychologists. They reported that the costs of service provision were equivalent and the range of services and outcomes being achieved across professional groups was similar and a differential payment was not justified. They argued that the higher rebate to clinical psychiatrists allowed them to charge higher fees and a lower gap payment, resulting in a service, which though more expensive, was cheaper to the client and provided them with an unfair competitive advantage. They argued that they should receive the same rebate as clinical psychologists and that this would allow them to charge lower gap and improve access to services.
Consumers and carers participating in the online survey and teleconferences generally perceived AHP services as affordable, but this may be partially explained by the relatively high numbers seeing clinical psychologists who were able to charge a minimum gap fee or bulk bill. Approximately half of the consumers responding to the online survey perceived services as affordable, as did more than three-quarters of those participating in the consumer teleconferences. Consumers generally argued that the perceived benefit of the service outweighed the cost. As one carer noted:
It is possible that the reporting of affordability by consumers may reflect a bias in the socio economic profile of consumers participating in the evaluation. A couple of consumers in receipt of pensions or benefits indicated that gap payments precluded them from accessing the local AHP.
The issue of gap payments and affordability was a strong theme with consumers, particularly for consumers with a longer history of mental health disorder. A number of consumers from regional areas reported that though AHPs were available in their local area, they were unaffordable. One consumer reported driving over 200km to the city for appointments with a psychiatrist as the gap payment was less than that charged by the local psychologist.
Figure 2: Cycle of increasing demand for services provided by AHPs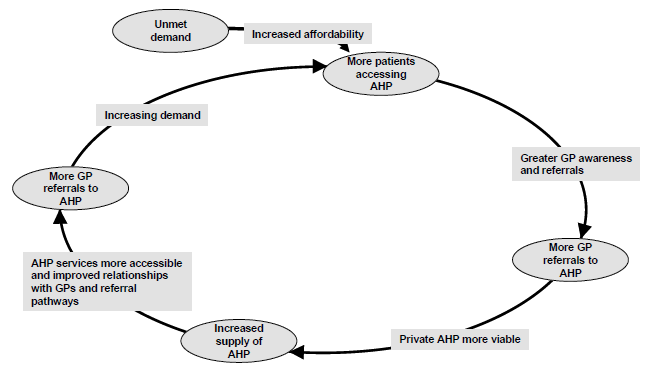 Top of page
Text version of Figure 2
Unmet demand
means
increased affordability
which leads to the cycle starting with
more patients accessing AHP
:
More patients accessing AHP means greater GP awareness and referrals which leads to more GP referrals to AHP.


More GP referrals to AHP means private AHP more viable which leads to increased supply of AHP.


Increased supply of AHP means AHP services more accessible and improved relationships with GPs and referral pathways which leads to more GP referrals to AHP.


More GP referrals to AHP means increasing demand which leads to more patients accessing AHP.
Footnotes
16 Australian Bureau of Statistics 1999. Issue 4327.0: National Survey of Mental Health and Wellbeing of Adults: Users' Guide, 1997.
17 Harris MF, Silove D, Kehag E et at (1996) Anxiety and depression in general practice patients: prevalence and management . Medical Journal of Australia 1996; 164:526-529.
18 Inequity in access across population groups was noted by representatives of consumer and carer organisations and difficulty in accessing services was reported by consumers and carers from regional, rural and remote areas.
19 Comment of carer responding to the online survey.