Department of Health Annual Report 2016-17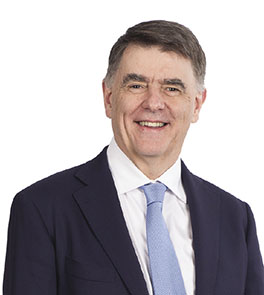 In my first nine months as Chief Medical Officer (CMO), I have been greatly impressed by the strong collaboration seen across the complex, federated Australian Health system, in delivering health outcomes for the community.
The partnership between the States and Territories and the Commonwealth is exemplified in the collaborative approach to public health issues that are coordinated through the Australian Health Protection Principal Committee. My predecessor, Professor Chris Baggoley AO, worked tirelessly on optimising this partnership and deserves great recognition for this and for many other outstanding achievements during his time as CMO.
Partnerships, generally, are crucial to the success of the CMO role. I have enjoyed working closely with many other bodies (such as the Learned Colleges, the Australian Medical Association (AMA), professional associations, disease specific organisations, industry, community organisations and many others). Each brings a unique perspective to the common goal of better health and wellbeing for our community. Strong and open communication is essential to progress the many system reforms and refinements that will always be required.
Building our medical workforce
On 1 January 2017, I became the Chair of the National Medical Training Advisory Network (NMTAN). The role of NMTAN is to advise governments on how to improve the coordination of medical training nationally and assist in medical workforce reform.
Medical workforce modelling indicates an oversupply of doctors nationally, but getting doctors with the right skills to the right places, particularly in regional and rural Australia, remains an issue that still needs addressing. We also must ensure that our specialist training programs are less influenced by the service needs of the health system and more focussed on producing the right numbers of specialists to meet our future workforce requirements.
The number of medical graduates has doubled over the last 15 years and the Assistant Minister for Health, the Hon Dr David Gillespie MP, asked NMTAN to consider the number and distribution of medical school places at Australian universities. NMTAN's advice will inform a review currently being undertaken by the Department of Health and the Department of Education and Training.
NMTAN is also responsible for guiding the development of the Australia's Future Health Workforce series of reports, which make national workforce projections by medical specialty. The Dermatology report was released in 2017, and NMTAN made significant progress on the Emergency Medicine and Ophthalmology reports.
In the year ahead, I look forward to continuing to work with NMTAN members, health departments, the Learned Colleges, and the AMA to develop a range of reform proposals for consideration.
Improving immunisation rates
Australia's high childhood immunisation rates continue to get even better, with over 93 per cent of Australian five year olds now fully vaccinated. Aboriginal and Torres Strait Islander five year olds are the first cohort to achieve the 95 per cent target set for the World Health Organization's Western Pacific Region. This was also an aspirational target set by the Department and State and Territory Chief Health Officers. To further improve childhood immunisation rates, particularly in areas of lower coverage, the Government this year announced a $5.5 million communications strategy over three years to reinforce to parents the value and safety of childhood vaccines.
In 2016-17, there was also a significant focus on adult vaccinations with the introduction of the National Shingles Vaccination Program and concerted communications efforts to improve seasonal influenza vaccine uptake amongst pregnant women.
The Government has further invested in the infrastructure required to support effective policy and program design and implementation. On 30 September 2016, the Australian Childhood Immunisation Register became the whole-of-life Australian Immunisation Register. As a result, the Register is now able to record vaccination information on over 25 million individuals and has improved functionality to better support providers and parents.
In November 2016, Australia's world leading AusVaxSafety National Surveillance System was launched. AusVaxSafety is an active, enhanced surveillance system capable of monitoring, detecting and providing real-time feedback on any potential safety signals due to serious or significant adverse effects following immunisation with vaccines on the National Immunisation Program.
The Government also finalised the transition of vaccine purchasing from States to the Commonwealth, with National Immunisation Program vaccines now subject to national coordination and procurement, to drive significant efficiencies and achieve overall value for money.
In March 2017, the Council of Australian Governments Health Council requested that the Australian Health Ministers' Advisory Council(AHMAC) consider options for responding to circumstances where an accelerated response to rising cases of a vaccine preventable disease might be required. The Department undertook this work as a key priority, in consultation with States and Territories, and a proposed National Priority Response Pathway for the National Immunisation Program was approved by AHMAC.
Figure 1: Fully immunised children at five years of age in Australia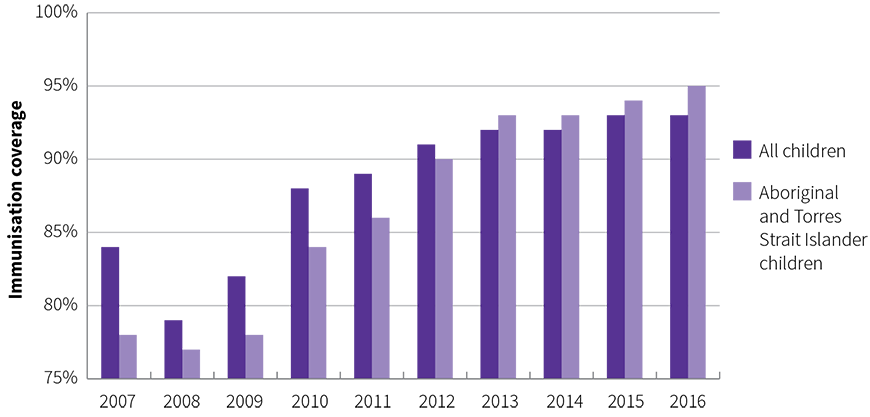 Measles outbreak in western Sydney
On 20 March 2014, the World Health Organization announced that measles elimination had been achieved in Australia. Although Australia has interrupted measles transmission locally, it is still an important issue in our region.
In March 2017, an outbreak of measles was reported in western Sydney, as a result of a traveller entering the country, following infection overseas. This incident demonstrates the importance of ensuring the Australian population is receiving the necessary vaccinations to minimise the transmission of illness and to safeguard the health of vulnerable Australians who are unable to receive vaccinations.
Invasive meningococcal disease
Australia has been fortunate that the overall incidence of invasive meningococcal disease (IMD) remains low and has decreased since the introduction in 2003 of the meningococcal C vaccine on the National Immunisation Program.
Meningococcal disease is a rare but very serious illness that usually appears as meningitis or septicaemia. This infection can develop very quickly and can be fatal in 5–10 per cent of cases. The bacteria are common and around 5–20 per cent of people carry them at the back of the nose and throat, without showing any illness or symptoms.
The four most common types of IMD in Australia are MenB, MenC, MenW, and MenY. Over the last 20 years, MenB has been the most common cause of IMD in Australia. However, IMD has recently become a national issue, as we have experienced a significant rise in MenW IMD cases between 2014 (10 per cent of all IMD or 17 cases) and 2016 (43 per cent of all IMD or 108 cases).
There is no clear reason for the rise in IMD due to MenW in Australia, but we do know that other countries in Europe, the United Kingdom and South America have experienced similar increases in the prevalence of MenW.
I have established a dedicated MenW Incident Management Team within the Department. This team is working closely with the States and Territories through the Communicable Disease Network Australia to coordinate national monitoring and assessment of the epidemiology of IMD due to MenW in Australia. This national monitoring will help to inform additional national response options and the implementation of nationally consistent messaging.
Figure 2: Reported cases of invasive meningococcal disease in Australia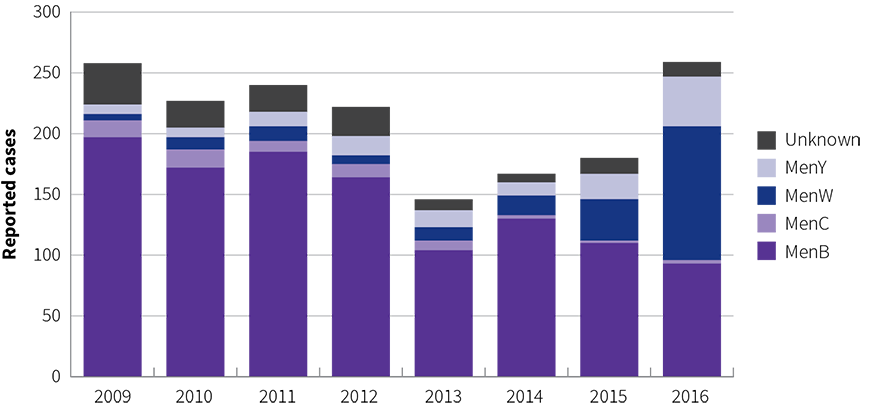 Eradicating polio
Australia stands committed to the global polio eradication effort and encourages continued focus on polio elimination. In 2017, we are closer than ever to achieving this goal, with only six cases of wild type polio reported in only two countries by the end of June. The Government, through the Department of Foreign Affairs and Trade, recently announced a further $18 million to the Global Polio Eradication Initiative to help finally bring the fight against this terrible disease to an end. This will bring our total contribution to the Initiative to $104 million since 2011.
Harnessing new technologies for foodborne disease surveillance
2016 marked the first time whole genome sequencing (WGS) of microorganisms was used in Australia to investigate multi-state outbreaks of foodborne disease.
OzFoodNet, Australia's enhanced foodborne disease surveillance network, commenced a multi-jurisdictional epidemiological outbreak investigation for Salmonella Hvittingfoss, which was associated with the consumption of rockmelons.
Over 150 cases of salmonella were associated with the outbreak and WGS was used to definitively link 110 human cases of Salmonella Hvittingfoss infection to each other and to the affected rockmelons. WGS can be used to replace other costly and time-consuming typing methods, enabling accurate, timely and more cost-effective ways of identifying associations and links between cases, food and the environment. WGS also provides reassurance to consumers that outbreak cases are identified quickly and accurately.
The Department works closely with the Bi-National Food Safety Network, which includes Food Standards Australia New Zealand, the Department of Agriculture and Water Resources and the food enforcement agencies of all Australian states and territories and New Zealand, to quickly and effectively manage foodborne diseases.
Hepatitis A and frozen berries an ongoing concern
Since the 2015 outbreak of hepatitis A associated with imported frozen mixed berries, there have been several international outbreaks of hepatitis A associated with frozen berries, including in New Zealand and Canada.
In May 2017, Australia experienced a further four cases of hepatitis A, in three states, likely to be linked to frozen mixed berries. OzFoodNet commenced an investigation and testing confirmed that the hepatitis A virus detected in each of these cases had an identical genotype and genetic sequence to the 2015 outbreak. The frozen berries linked to these new cases were imported in early 2015 and had remained in the country. There is no evidence of cases of hepatitis A associated with newly imported berries, since border controls were put in place in February 2015.
As of 30 June 2017, the investigations into this outbreak were ongoing but no further cases have been identified.
Clinical guidance for medicinal cannabis
Medicinal cannabis has been a very topical issue this year. There is much passion and enthusiasm for its use in a variety of clinical conditions and governments have made significant progress in improving access for patients. It is important, however, not to let the passion and enthusiasm get ahead of the science. Like any therapeutic substance, medicinal cannabis and the derived products of cannabis need to be subjected to proper scientific evaluation of therapeutic efficacy.
A recent trial showing some benefit of cannabidiol in the rare Dravet's form of epilepsy is one of the few rigorous scientific evaluations in epilepsy, despite claims of widespread benefit in this disease. Similarly, there seems to be a role for cannabis products in chemotherapy-associated nausea and in pain management, but to what extent and in what circumstances it has superiority over existing medications remains to be determined. As Australians gain increased access to cannabis and its derivatives, it remains crucial that appropriate trials are conducted in all of the indications where benefits are claimed.
The Government has appointed an Australian Advisory Council on the Medicinal Use of Cannabis chaired by Professor Jim Angus. In conjunction with the work of the Advisory Committee, and to assist clinicians, the National Drug and Alcohol Research Centre is reviewing what evidence exists for the use of medicinal cannabis and developing clinical guidance documents.
Debilitating symptom complexes attributed to ticks
There is debate within the community about the existence of an Australian form of classical Lyme disease. Some Australians, who have not travelled overseas to endemic areas, have developed symptoms which they believe are consistent with a form of chronic Lyme disease. While classical Lyme disease exists overseas, chronic Lyme disease is a disputed diagnosis and is not generally recognised by the medical profession, even in Lyme endemic countries.
The Department remains aware of the distressing nature of this issue and acknowledges that many Australians are experiencing chronic debilitating symptoms that are causing them significant hardship and interfering substantially with their lives. Their needs have not been met, so far.
In 2015, the Department contracted the National Serology Reference Laboratory to evaluate the different tests used in Australia and overseas to diagnose Lyme disease. The final report of this evaluation and the results of the evaluation are expected to be published later in 2017.
Further, the Government is currently considering twelve recommendations from a Senate Inquiry, tabled on 30 November 2016, into the growing evidence of an emerging tick-borne disease that causes a Lyme-like illness for many Australian patients.
The situation will continue to be monitored closely, with further research encouraged by the Department to identify the cause of these symptoms and also to examine whether a tick-borne aetiology can be identified.
Antimicrobial Resistance (AMR)
The challenge of this global threat continues to rise, with increased incidence, in many countries, of infections with highly resistant bacteria, sometimes untreatable. The Government is pursuing several strategies, including campaigns to reduce community prescribing of antibiotics, proposed restriction of the use of some valuable antibiotics in animals and improving antimicrobial stewardship and infection control in all health care settings. A key challenge is to get broad community awareness of the serious threat posed by the reduction in the number of available antibiotics to treat infections. Consumers as well as health and veterinary practitioners must accept the imperative to only use antibiotics in those circumstances, where the evidence clearly indicates that they are of benefit.
The Department has recently undertaken a review of our national surveillance of antimicrobial use and resistance and is looking to significantly enhance the surveillance function, by linking it to a future public health response and developing surveillance in animal health.
Professor Brendan Murphy
Chief Medical Officer
September 2017