Online version of the 2013-14 Department of Health Annual Report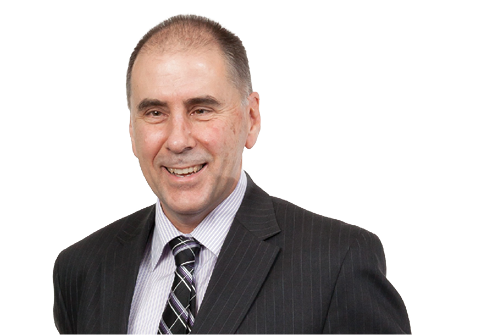 Constant vigilance is required to protect Australia from evolving health threats. Australia must maintain its ability to detect, monitor and respond effectively to emerging and re-emerging communicable disease threats and other health emergencies, at a national and global level. The National Framework for Communicable Disease Control aims to support Australia's efforts to respond to communicable diseases including emerging threats such as Middle East Respiratory Syndrome Coronavirus (MERS-CoV) and Ebola virus disease (EVD), and globally re-emerging threats such as measles, and polio. This report demonstrates Australia's continuing achievements in addressing blood-borne viruses and sexually transmissible infections, and highlights the importance of Australia's assistance to international disaster zones, such as in the aftermath of Typhoon Haiyan in the Philippines.
Endorsing the National Framework for Communicable Disease Control
For the first time, Australia is to take a truly national approach to controlling communicable disease, following Australian Health Ministers' endorsement of The National Framework for Communicable Disease Control. The framework brings together Government, agencies and committees under the goal of strengthening our defences against communicable diseases to support the delivery of an integrated, national public health response.
Communicable diseases present an ever-changing risk to society, especially considering the speed and scale of national and international travel, most recently demonstrated by EVD, MERS-CoV and avian influenza (H7N9) in China.
Over time, the framework will assist the delivery of a number of outcomes, including better surveillance and public health laboratory testing, improved preparedness and response capacity, and implementation of evidence-based prevention policies. Additional outcomes will include more effective communication, strengthened leadership and governance, and improved partnerships, networks and international engagement.
The framework was developed with stakeholder consultation and in partnership with the Australian Government and State and Territory Governments through the Australian Health Protection Principal Committee. The Australian Government and State and Territory Governments are now working on an implementation plan to deliver these outcomes.
Remaining alert: MERS-CoV
In my report last year, I highlighted the identification of Middle East Respiratory Syndrome Coronavirus (MERS-CoV) in September 2012. Back then, we were not sure of the infection transmission pathway, although we suspected it to be of animal origin.
Camels are now suspected to be the primary source of infection for humans, but the exact routes of direct or indirect exposure remain unclear. The virus has occasionally been spread between people who have had close contact, particularly in healthcare settings and the number of reported cases increased sharply in April and May 2014.
Figure 1: WHO global case count of number of MERS-CoV cases from 2012-20142
As of 30 June 2014, more than 700 laboratory confirmed cases of MERS-CoV had been identified, with around 36 per cent of those people dying. MERS-CoV can cause severe acute respiratory symptoms, particularly in people with a range of underlying conditions. All cases had a history of residence in or travel to the Middle East, or contact with travellers returning from these areas.
While MERS-CoV continues to be a significant problem in the Middle East, there have been no cases diagnosed to date in Australia.
Keeping an eye on Ebola
The first Ebola virus outbreak was reported in Africa in 1976. Since then, 24 outbreaks have been reported in Africa. The current outbreak of EVD in West Africa is the largest ever reported. The virus has resulted in more than 1,000 laboratory confirmed cases and more than 900 deaths as at 30 June 2014 and these numbers are expected to increase substantially.3
The virus can cause serious illness, with sudden onset of fever, muscle aches, weakness,
headache and sore throat. The next stage is characterised by vomiting, diarrhoea, rash and malfunction of liver and kidneys. Some cases present with profuse internal and external bleeding and progress to multi-organ failure with the case-fatality rate ranging between 50-90 per cent.
Fruit bats are considered to be the natural host of Ebola viruses, with periodic outbreaks among other species such as chimpanzees, gorillas, monkeys and forest antelope. The virus spreads through close contact with the blood secretions, organs or other body fluids of infected animals and people, and indirect contact with environments contaminated with such fluid, including in healthcare settings. EVD has not reached Australian shores. While the risk of cases of EVD being imported to Australia is low, in part due to the very low volume of travel between Australia and the affected regions, we need to remain vigilant. All States and Territories, in partnership with the Commonwealth, have been working together to have strong and consistent approaches to the detection, investigation and management of any Ebola cases.
Preparedness
The Department has undertaken a range of planning and response measures in conjunction with the Communicable Diseases Network Australia to respond to the possible arrival of MERS-CoV in Australia, and to position us to respond to other emerging communicable diseases, including EVD. This includes issuing advice to health professionals, issuing situation updates, planning public health responses (including the management of contacts of cases, should they occur), planning surveillance, issuing communication materials and liaising with the Department of Foreign Affairs and Trade on travel advice.
I have communicated directly with doctors working in our hospitals, and with general practitioners about this outbreak in the Middle East to ensure any cases are detected early and measures quickly put in place to prevent further spread. Infection control in healthcare settings is vital to preventing the spread of MERS-CoV. The Office of Health Protection in the Department provides national coordination in the event of a health emergency drawing together the required expertise and ensuring representation from all relevant sectors.
Australia has also participated in the international community's response to MERS-CoV through my role as Chair of the WHO International Health Regulations Emergency Committee, which advises and makes recommendations to the WHO Director General.
Eliminating trachoma by 2020
Australia is working hard to eliminate trachoma, one of the major causes of preventable blindness globally. Trachoma is a bacterial eye infection that generally occurs in dry, dusty environments and is linked to poor living conditions. It is almost exclusively found in remote and very remote Indigenous communities in the Northern Territory, South Australia and Western Australia. Some cases have also been identified in New South Wales and Queensland.
Figure 2: Trachoma prevalence in children aged 5-9 years in at risk communities in Australia4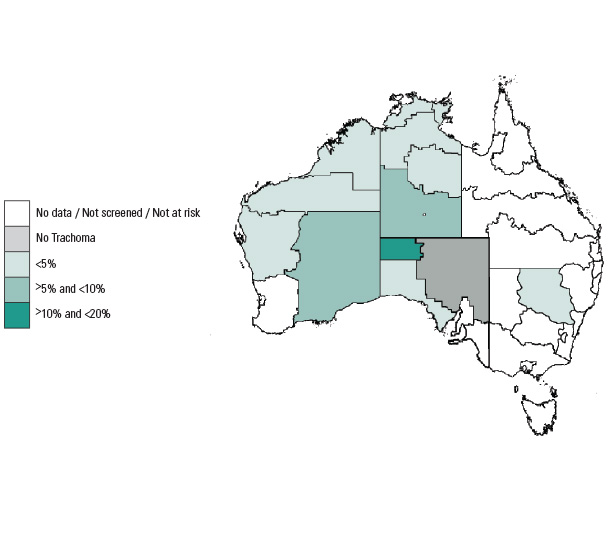 The Australian Government is a signatory to the WHO's Resolution to eliminate blinding trachoma by 2020, and is on track to meet this goal.
Concerted effort by the Australian Government and affected State and Territory jurisdictions has seen the national prevalence of trachoma fall from 14 per cent in 2009 to four per cent in 2013. A new agreement between the Australian Government and these jurisdictions is providing continued funding for additional trachoma screening and treatment activities from 2013-14 through to 2016-17.
A total of 4,213 children were screened in 2013, and the number of remote communities designated as being 'at-risk' of trachoma has reduced from 204 in 2012 to 173 in 2013.
During 2013, the Communicable Disease Network of Australia's 2006 Trachoma Guidelines were updated. The new guidelines allow public health officials greater flexibility to direct resources towards community-wide treatment in areas of known high prevalence. These guidelines are based on the WHO's Trachoma Strategy and adapted to Australian conditions.
Figure 3: Trachoma prevalence among screened children aged 5-9 years by year and jurisdiction, Australia, 2007-20135

Reducing the incidence of BBVs and STIs
Australia has made great progress in addressing blood-borne viruses (BBVs) and sexually transmissible infections (STIs). HIV prevalence in Australia is amongst the lowest in the world. Despite this, the rate of new diagnosis of HIV and some STIs is increasing, and Aboriginal and Torres Strait Islander peoples continue to be over-represented in notifications of STIs and viral hepatitis.
Australia's five new national strategies set the direction for a coordinated, national response to HIV, hepatitis B, hepatitis C, STIs, and BBVs and STIs in the Aboriginal and Torres Strait Islander population until 2017.
The strategies have been endorsed by all Australian Health Ministers and contain targets which provide a renewed focus for action and a framework for accountability. Each national strategy identifies the priority actions that will support achievement of the targets across the areas of: prevention; testing; management, care and support; workforce; enabling environment; and surveillance, research and evaluation.
The strong partnership approach which brings together Governments, community and professional organisations, researchers, health professionals and affected communities will continue as we implement these new national strategies.
Renewing our focus on HIV
Thirty years after the discovery of the HIV virus, the international HIV epidemic remains one of the greatest public health challenges. 1,235 new cases were diagnosed in Australia in 2013.6 Australia has joined other countries in committing to the global goal of an 'AIDS free generation' and to meeting the actions and targets endorsed in the 2011 United Nations Political Declaration on HIV/AIDS.
In April 2014, Australian Health Ministers endorsed the AIDS 2014 Legacy Statement. This statement was released during the 20th International AIDS Conference (AIDS 2014). The statement commits all Australian Health Ministers to work towards the virtual elimination of new Australian HIV transmissions by the end of 2020. This will involve taking all necessary action, in partnership with key affected communities and sector partners, to remove barriers to testing, treatment, prevention, care and support, across legal, regulatory, policy, social, political and economic domains.
The 7th National HIV Strategy 2014-2017 supports the statement through outlining the actions Australia will need to take to achieve the goal of virtual elimination of HIV. Key features of the strategy include the need to reinvigorate cultures of safe sex practices, particularly among key affected populations; increase access to and uptake of HIV testing; increase treatment uptake to 90 per cent of all people living with HIV; and support the primary care sector to take a greater role in the management of blood-borne viruses and sexually transmissible infections, including HIV.
Providing assistance during natural disasters
In November 2013, the Philippines Government requested assistance from the Australian Government following the impact of Typhoon Haiyan which caused a catastrophic disruption to housing, sanitation, food supplies and the health system in the Philippines, and resulted in more than 6,300 deaths.
As the centrepiece of the Australian Government's $40 million response, two Australian Medical Assistance Teams (AUSMATs) were deployed to assist the community of Tacloban City in the Philippines' Eastern Visayas region. The AUSMATs were staffed by health and medical professionals from every State and Territory of Australia, and New Zealand, and comprised doctors, nurses, paramedics, other allied health staff, and logisticians.
The AUSMATs worked out of a self-contained civilian field hospital between 13 November and 9 December 2013, and provided treatment to 2,734 patients. This emergency health facility became a referral point for most of the major foreign government and non-government teams in the event of critical illness of their staff, including the service men and women of the US Military.
This successful and comprehensive health response to a severe mass casualty incident again demonstrates Australia's capability to successfully coordinate a multi-jurisdictional deployment of expert health and medical professionals following a disaster.
Professor Chris Baggoley
Chief Medical Officer
October 2014