Online version of the 2013-14 Department of Health Annual Report
The Department has a robust quality assurance framework to ensure that the annual financial statements are prepared in accordance with Finance Minister's Orders and Australian Accounting Standards.
The Audit Committee has a key role within this framework; they provide independent advice to the Secretary on the preparation and the review of the financial statements. To assist the Audit Committee with this responsibility the Department continued the Financial Statements Sub-Committee. The Audit Committee endorsed the annual financial statements prior to signing by the Secretary and Chief Financial Officer.
The Department's financial statements were audited by the Australian National Audit Office (ANAO). An unmodified audit opinion was issued by the Auditor-General on the 12th September 2014.
Annual Financial Statements Signing on 12th September 2014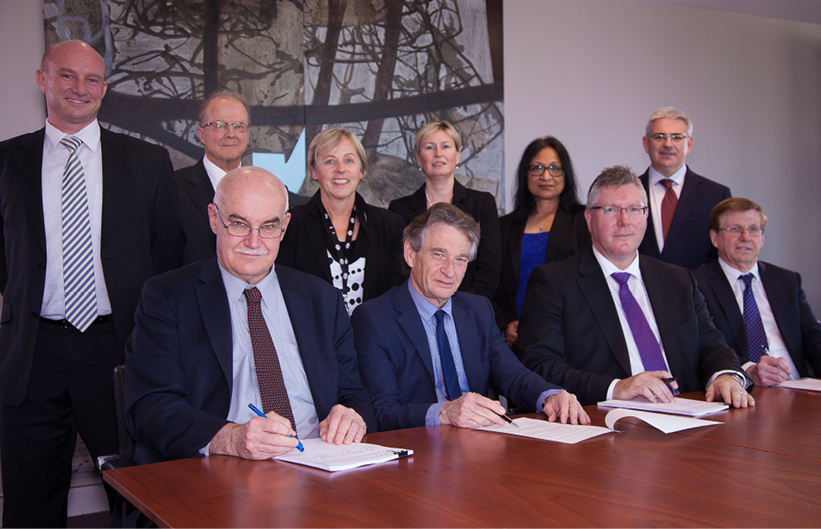 Back Row: Craig Boyd (Deputy Chief Financial Officer); Oliver Winder (Audit Committee Chair); Jenny Morison (Audit Committee); Nicole McLay (Chief Financial Officer, TGA); Puspa Dash (ANAO); Anthony Howatson (Office of the Chief Financial Officer).
Front Row: Professor John Skerritt (National Manager, TGA); Ian McPhee PSM (Auditor-General); David Learmonth (Acting Secretary); John Barbeler (Chief Financial Officer).